Mẹ (2018)
​
Mẹ, mother in the northern Vietnamese dialect, follows two generations of moms as they create a new dish for the family restaurant. Reimagining their parent's pho shop, the next generation carries on the family legacy through Vietnamese cuisine.
The egg tart aka "Dan Taat" in Cantonese is a classic pastry found in bakeries and also a popular dim sum dessert. With a custard like filling and flaky pastry exterior, this baked good actually does have egg in its ingredients!
We visit Marui Bakery, a hole in the wall bakery that the same family has been running for over two decades in Vancouver. Nestled in a mini mall between a dental office and a hong kong style cafe; a "cha chang teng" like highlighted in Part 1, locals have been coming here for the decadent egg tarts for years. We hear from the family about their experience in running a bakery for so long and also their thoughts on the potential for development of the mini mall they've called home for so many years.
The cousin of the Egg Tart, the Portuguese Tart comes equipped with a charred top and similar flaky pastry. We visit with Natas Canada and hear how they started with motivations of sharing their decedent tart with Vancouver via social media.
👈
Natas at Nando's.
Lastly we explore a Canadian classic in the Butter Tart visiting Purebread in Vancouver's Mt. Pleasant neighborhood. We bring a baker's dozen of egg tarts and portegeuse tarts to share with the bakers and discuss the cultural impact of all the tarts.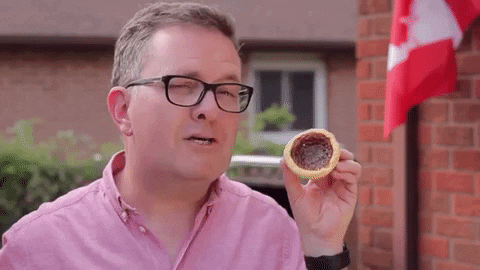 Purebread doesn't mess around with their presentation.