Mẹ (2018)
​
Mẹ, mother in the northern Vietnamese dialect, follows two generations of moms as they create a new dish for the family restaurant. Reimagining their parent's pho shop, the next generation carries on the family legacy through Vietnamese cuisine.
Freshly
Baked
AN ORIGINAL UNSCRIPTED SERIES
FRESHLY BAKED focuses on six Chinese baked goods examining the origins, techniques, and people behind the delicacies. This unscripted series explores the diverse bakeries around Greater Vancouver uncovering similar iterations of each Chinese baked good found in different cultures. Joined by various guests, host Osric Chau and filmmaker Derek Kwan, will peer into the ovens of baker's as they share personal stories highlighting the connections we form surrounding the humble bakery.
"A 'Freshly Baked' take on the food-based docuseries."
An original unscripted series, FRESHLY BAKED breaks down six staple baked goods traditionally found in a Chinese bakery. Narrated from the personal perspective of filmmaker Derek Kwan, the series will intertwine anecdotes formed from his Chinese-Canadian upbringing and the prominent role baked goods have played in his life. Along with host Osric Chau, we will uncover the similar versions of these six Chinese baked goods that are found in other cultures as we explore the diverse bakeries around Greater Vancouver.
A fresh take on a food show, FRESHLY BAKED will peer into the ovens of baker's delving into the tradition, culture, and food that make up various bakeries yet to be highlighted on screen. We'll hear from the people and families behind the bakeries with meaningful discussion consisting of their stories, triumphs, and struggles. These bakers will share what it takes to run a bakery from insight on their recipes and techniques, to the sharing of real and grounded stories exploring what their bakeries mean for them personally and what they represent for the surrounding community.
Rogers + Creative BC Documentary and Factual Development Fund
an ORIGINAL unscripted series
WINNER Grand Jury Best Short Documentary SAAFF '19 - ME (2019), Director




WINNER Best Short Documentary DisOrient '19 - ME (2019), Director




Telefilm "Not Short on Talent" - Short Film Corner at Cannes, FR - IDOLS NEVER DIE (2019), Producer
A mixture of cooking show and traditional documentary culminating with the exploration of the human condition. Taking inspiration from the style of programming paved by Anthony Bourdain in "Parts Unknown" and refined by David Chang in "Ugly Delicious". Through the use of voiceover, animation, natural banter, and informal interviews/discussion the narrative will be presented in rooted stories told through baked goods. With influence from "How to with John Wilson", the narration will have comedic undertones with quirky personal stories and connections from filmmaker Derek Kwan.
Osric Chau has been a working actor since 2002. He got his first experience behind the camera as a director's assistant and VFX assistant coordinator in the Chinese remake of "What Women Want" before going on to produce a series of short films in Beijing China in 2010. He has since produced a number of short films between acting role culminating to producing and starring in his first feature film "Empty by Design" which was shot in the Philippines. "Empty by Design" premiered as the closing night film at the Los Angeles Asian Pacific Film Festival, won Best international Feature Film at the Soho International Film Festival and was the centerpiece film for the Austin Asian Film Festival, Seattle Asian Film Festival, and Vancouver Asian Film festival.
PART 1:

The Pineapple Bun
PART 3:

The Bubble Waffle
PART 4:

The Chinese Donut
PART 6:

The Chinese Fruit Cake
A "freshly baked" take on the food-based docuseries, episodes will surround baked goods synonymous with my childhood upbringing. Featuring casual, real conversations with diverse bakers, this series will shift the traditional documentary and find inspiration from narrative storytelling in presenting compelling characters and stories.
Spontaneous and on occasion breaking the fourth wall, FRESHLY BAKED won't shy away from pulling back the curtain on the filmmaking process with constant conversation between subjects, guests, and director. Interviews with our Chinese bakery subjects will be spoken in a mixture of English and Cantonese, capturing the mixed culture experience of living and working in Greater Vancouver.
"A mouth watering
6 Part Series."
The quintessential bun in any Chinese bakery, the pineapple bun is synonymous with being the ultimate comfort food in Chinese cultures. Interestingly enough, with no pineapple actually in the ingredients, the pineapple bun derived its name from its recognizable cracked top resembling the skin of a pineapple.
​
Known as a "BoLo Bao" in Cantonese, we visit the popular Kam Do Bakery in Richmond. We hear from owners who started Kam Do as a Restaurant and Bakery combo in 1995. Derek remembers when they operated as a "Cha Chang Teng" or Hong Kong Style Cafe, ordering steak and fries on a sizzle plate, with his favorite black pepper gravy. The owners share their experiences and memories in operating the restaurant and bakery in Richmond for the last 25+ years. Lastly, everyone snacks on Kam Do's other signature baked good, the "Wife Cake".
In finding similar iterations of the pineapple bun, we travel to Baker and Table cafe on Vancouver's Fraser St to try the Japanese Melonpan bun. With a similar cracked top, much like the pineapple bun, the melonpan pun contains no melon in it's recipe! Owner Hitomi shares a heartfelt story about how she started the bakery.
For our last stop, we talk to __ of the Metate Bake Shop and try their signature Mexican Concha Buns. Just like the pineapple and melonpan buns, the concha has a similar cracked shell on top of the bun. Literally in the shape of a shell, hence "concha"!
Metate Bake Shop ceased baking in December due to the pandemic and are waiting until events and farmer's market begin again.
​
The owners share their experience of running a food business during the pandemic and how their baked goods were a source of connection for the surrounding Latin community and beyond.
👆
With French origins, the Craquelin Choux Pastry comes with a similar crispy top bun.
👉
The Morning Bun from Fife Bakery in Mount Pleasant. A mashup of Chinese and Western cultures in a bun.
Growing up, Derek knew the old design of BC Place to be dubbed the "BoLo Bao" by Chinese locals because of the roof's similar shape to the Pineapple Bun's signature top.
The egg tart aka "Dan Taat" in Cantonese is a classic pastry found in bakeries and also a popular dim sum dessert. With a custard like filling and flaky pastry exterior, this baked good actually does have egg in its ingredients!
We visit Marui Bakery, a hole in the wall bakery that the same family has been running for over two decades in Vancouver. Nestled in a mini mall between a dental office and a hong kong style cafe; a "cha chang teng" like highlighted in Part 1, locals have been coming here for the decadent egg tarts for years. We hear from the family about their experience in running a bakery for so long and also their thoughts on the potential for development of the mini mall they've called home for so many years.
The cousin of the Egg Tart, the Portuguese Tart comes equipped with a charred top and similar flaky pastry. We visit with Natas Canada and hear how they started with motivations of sharing their decedent tart with Vancouver via social media.
👈
Natas at Nando's.
Lastly we explore a Canadian classic in the Butter Tart visiting Purebread in Vancouver's Mt. Pleasant neighborhood. We bring a baker's dozen of egg tarts and portegeuse tarts to share with the bakers and discuss the cultural impact of all the tarts.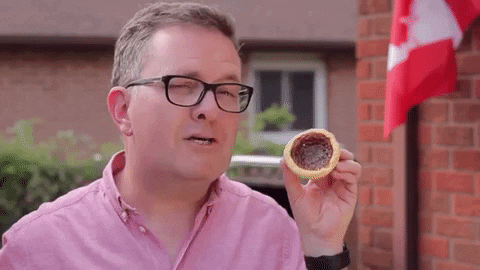 Purebread doesn't mess around with their presentation.
The Bubble Waffle also known as an Egg Waffle is a night market, street food classic. With origins from Hong Kong and Macau, it's signature shape consisting of circular bubbles are formed from custom waffle irons.
These came onto the scene in the early 2000's with the arrival of the night market's in Vancouver's Chinatown and Richmond. Derek describes one of his favourite memories of the bubble waffle reminiscing about the infamous "Bubble Waffle Man" of the original night markets. An energetic man of South Asian descent, he was a crowd favourite, as he worked two waffle irons all while bantering in Cantonese.
Fast forward to today and the bubble waffle has evolved into various different flavours and forms. We visit the Bubble Tea Shop and try the various iterations of bubble waffle from Matcha to Oreo.
Next we head to Vancouver's Chinatown and visit a new shop to the scene which serves up the Korean Hoduya Walnut cake. With similar components to the bubble waffle, the Hoduya Cake comes in the shape of a walnut and stuffed with red bean paste. We talk with the owners about where the idea came from and why they decided to open up shop during these tough times for food establishments during the era of COVID-19.
For our last stop we visit the Richmond Public Market where Peanuts has been operating since the inception of the market in 1995. Bringing their famous Taiwanese wheel cake to Vancouver food eaters, they explain why they've kept their prices virtually the same since they first opened in the 90's.
As you can see, things can get pretty wild and creative with the bubble waffle.
👇
"Do you know the Bubble Waffle man?"
*Best viewed in Full Screen*
View this treatment on a Computer for the full episode breakdowns